<! -- Blog Post -->
Infographic: Understanding Toxicity in Open Source Discussions
Apr 28, 2022. | By: Courtney
Check out the paper here.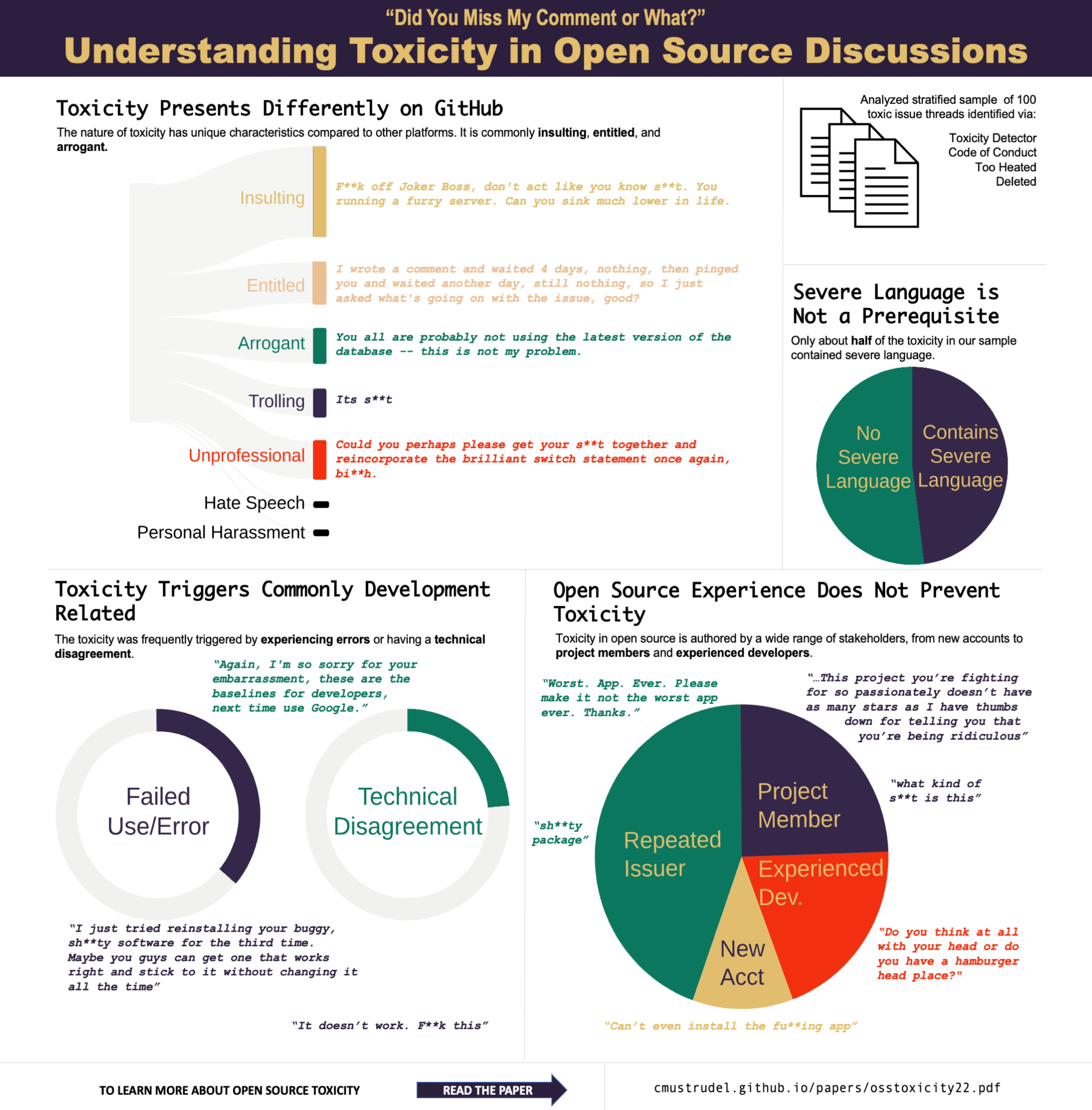 Life @ CMU
Jul 1, 2021. | By: Sophie
Since I came to the Open House in March 2017, I found that CMU is a nerdy but cool space. I'm writing down things I find interesting here. Hope this blog can tell you more about CMU.
Jun 19, 2021
Sep 12, 2019.
@Baker Hall
Sep 11, 2019.
Thanks Marat! I told Marat that I'm lactose intolerant and most of the time I couldn't enjoy the free lunch provided at our weekly societal computing seminar. So he ordered special lunch for me!
Sep 10, 2019.
A masterpiece by Bogdan - he built it when we were having a project meeting with Laura and Jim (just to give you some idea of what we do during our meetings, definitely not talking about science).
Sep 3, 2019.
Nice backpack!
Aug 26, 2019.
First day back to school! What a surprise! It used to be: computer science as a field has a reputation for being a boys' club. Not at Carnegie Mellon (see here). Now it is removed entirely.
May 31, 2019.
After ICSE, I was discussing with people about the paper Do Developers Learn New Tools On The Toilet? on how effective is Google's unofficial practice of putting up posters about tools in the toilet. I accidentially referred to it as the toilet paper. Apparently I didn't plan the pun. Then I heard that during the ICSE, there were people putting up surveys in male toilets. Apparently we female participants missed such thing. They should learn from Google - I heard that now the posters are being put up by cleaners so that both male and female bathrooms will get the same amount of coverage.
Apr 4, 2019.
My advisor told me that CSCW and ICSE people love to see long discussion sections. He opened his arms to indicate the length. I took it literally and thought how could they expect us to write a paper that is more than 6 feet long?!
Mar 19, 2019.
Many people are sick these days. At least 3 students were coughing and sneezing out of 20 students in my class. A friend of mine and I were thinking maybe people from different departments may get sick in different ways.
We people in the Software Institute get sick caused by bugs in the software.
People at Computer Science Department might systematically infected by some theoretical sickness.
Robotic Institute people might infect their robots, so watch out for mad robots these days!
Human Computer Interaction people must have some interactive disease that can only be activated by some machine behaviours.
CompBio people are always in danger because it sounds like they might be dealing with virus DNA.
Linguistic Technology people may begin to speak gibberish or have lots of grammar mistakes.
The most interesting sickness probably belongs to the people from the Machine Learning Department. They have the capacity to backpropagate their sickness so that every new patient would be able to improve the symptom of the old patients to achieve a glocal maximum of infection.
Mar 12, 2019.
A friend of mine is looking for a job at some university. She asked me about some of my former schools. I asked her, why not come to CMU so that we could be roommates.
She said, No, I feel like even security guards need to know Java to be able to work at CMU.
I said, that's not True, Python is also acceptable.
Feb 9, 2019.
A couple days ago, someone came to give a job talk about how people train AI to perform a task. He showed some stats on how some people managed to teach the AI quickly by using some consistent languages while the others took a while. Someone raised a question about the demography of the players. He suggested that Stanford undergrads may be different than the other people. He then went on to suggest that it might be interesting to compare Stanford undergrads and CMU undergrads.
Then someone else said, "I bet Stanford undergrads can do it. It's not very difficult. The problem is whether MIT undergrads can do it."
May 25, 2018.
Are we suppose to high five whenever we go pass by this sign, like you have to kiss if you stand under a mistletoe??
Infographic: Donations in Open Source
Jun 18, 2020. | By: Bogdan
More details about the research here.
Papers accepted at ICSE 2019
Feb 3, 2019. | By: Bogdan
Christmas came early this year, with four papers accepted at ICSE 2019:
Holiday spirit
Dec 13, 2018. | By: Bogdan
Drum roll! 🥁 Please welcome our holiday hippo.
We were so excited that we made strudels from scratch!
Travel
Nov 6, 2018. | By: Bogdan
The latest and greatest of our travel adventures:
STRUDEL Reading Group updates
Jul 25, 2018. | By: Sophie
Wednesday, Sep 5, 2019
Okok, Sophie's back on track recording our reading group discussions. We have a new member this year - Hongbo Fang. It is our tradition to welcome new people by asking them to present a paper. Here's Hongbo's summary about the paper he presented: Hongbo FAng presented the paper "What Makes Geeks Tick? A Study of STack Overflow Careers" (Xu et al., 2019). It tests a simple hypothesis that people will contribute more on StackOverflow when searching for a new job. Data shows that people's reputation generating actions on StackOverflow decreases much more after a job change comparing to non-reputation generating actions, which imply that they invest extra energy to gain reputation on StackOverflow before having a new job. I particularly like how they systematically ruled out other plausible explanations, which strengthend their major argument and made the paper more convincing. It is also a good exmaple for learning how to proof causal relation in social context.
Although I imformed him about our good tradition of bringing snacks to the meeting, he unavoidably forgot about it. Thanks Ei Pa for keeping our good tradition by bringing chocolate she purchased in Denmark on her way to a conference. It looked like they came out from a fairy tale! I wish I had taken pictures of those heart-shaped ones.
Wednesday, July 25, 2018
So sad. Today was the last group meeting of the summer season. Thanks a lot to our REU students Sophie and Courtney for spending their summer with us. We appreciate your visit.
Here's all of us wearing STRUDEL gear:
Papers accepted at ESEC/FSE 2018
Jul 16, 2018. | By: Bogdan
We're fortunate to present two papers at ESEC/FSE this year:
Infographic: npm badges
Mar 18, 2018. | By: Bogdan
More details about the research here.
Papers accepted at ICSE, MSR, ICGSE, and ICPC 2018
Mar 18, 2018. | By: Bogdan
Gothenburg, here we come! We have a strong presence at ICSE 2018 and colocated events this year:
Asher and Shurui have a paper on badges in npm at ICSE:
Adding Sparkle to Social Coding: An Empirical Study of Repository Badges in the npm Ecosystem
Update: Here's Asher presenting:
More details about the research here.
Alan and Jeremy have a paper on decompilation at ICPC:
Paper presented at ASE 2017
Oct 31, 2017. | By: Bogdan
We were at ASE 2017 presenting the paper:
The Impact of Continuous Integration on Other Software Development Practices: A Large-Scale Empirical Study, with Yangyang Zhao, Alexander Serebrenik, Yuming Zhou, and Vladimir Filkov.
More details about the research here. PDF here. Slides here.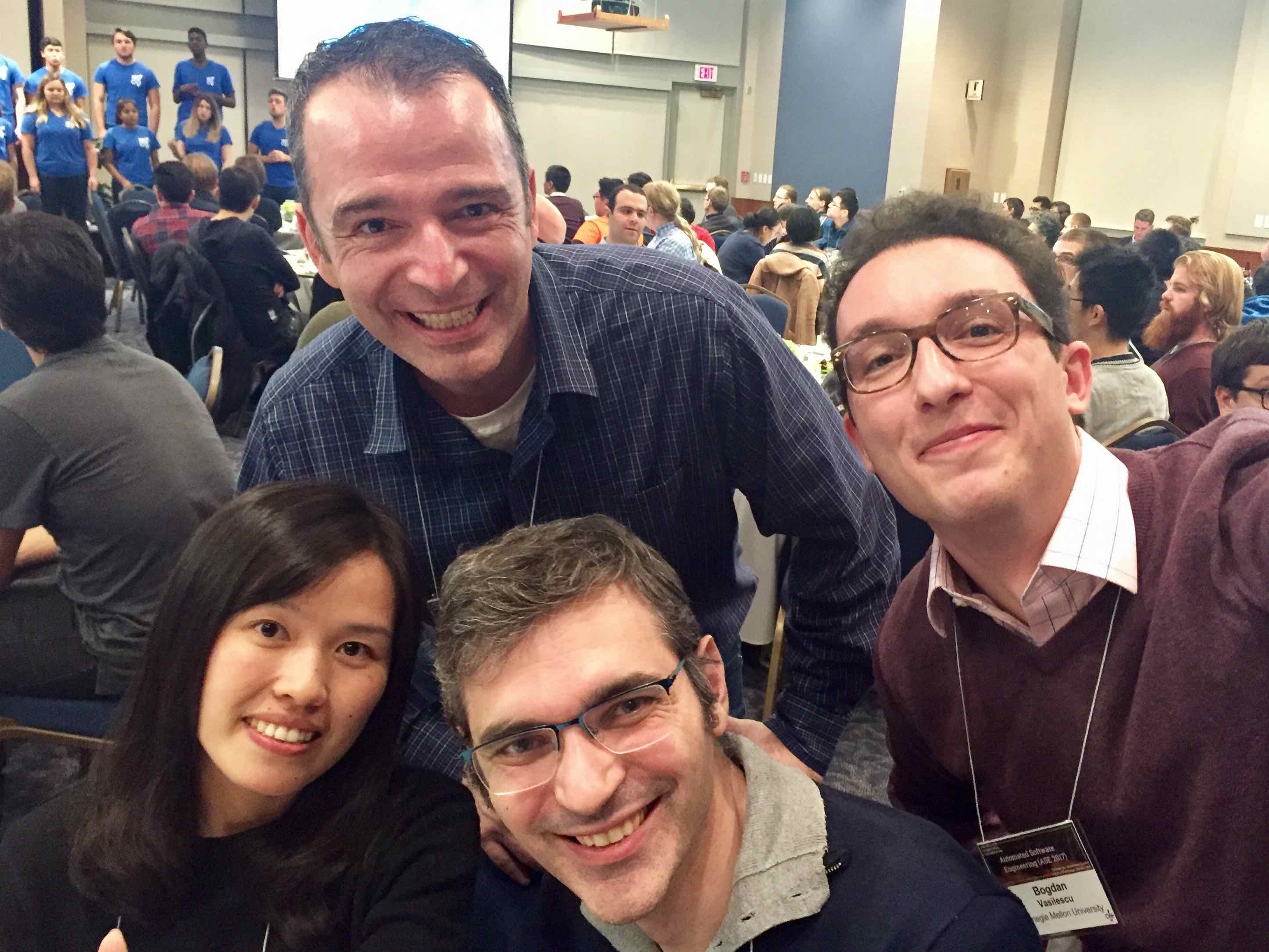 Third place for Alan in the SRC!
Sep 8, 2017. | By: Bogdan
Congratulations to Alan who placed third in the ACM Student Research Competition at ESEC/FSE 2017 this year!
Check out his work on suggesting meaningful variable names for decompiled code.
More details about the research here.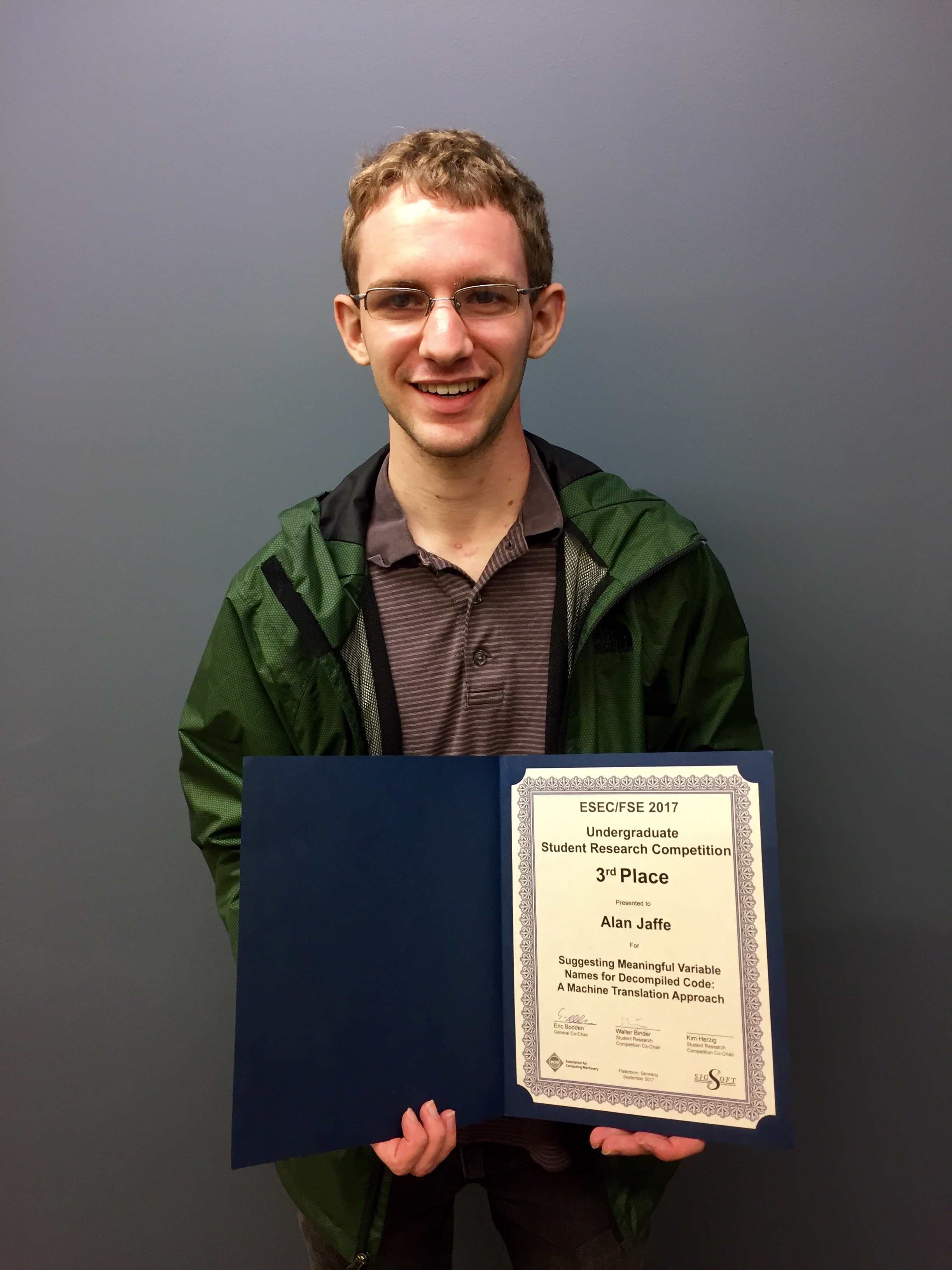 Paper accepted at SWAN 2017
Jul 4, 2017. | By: Bogdan
We just had a paper accepted at SWAN 2017!
Timezone and Time-of-Day Variance in GitHub Teams: An Empirical Method and Study, with Prem Devanbu, Pallavi Kudigrama, and Cindy Rubio-González from UC Davis.
One of the coolest parts of the paper is the novel use of circular statistics. Did you know that traditional summary statistics (like the mean) are invalid for circular variables like the clock and angles? Here's an example of circular histograms showing when people made commits in two GitHub projects. Check out the preprint for more details.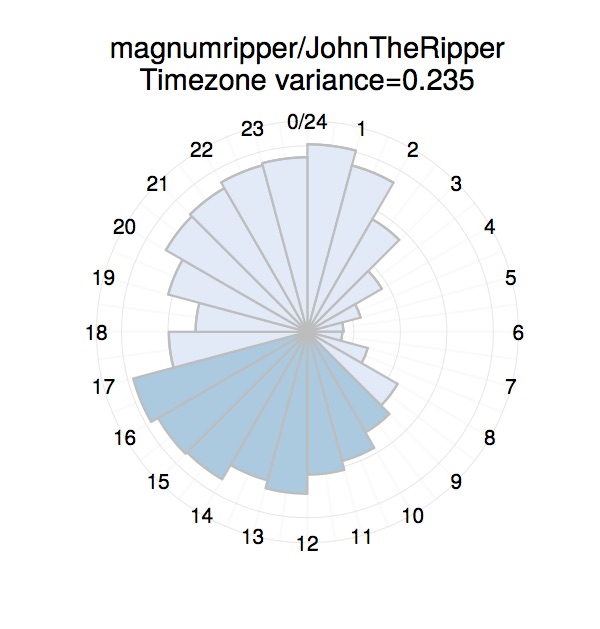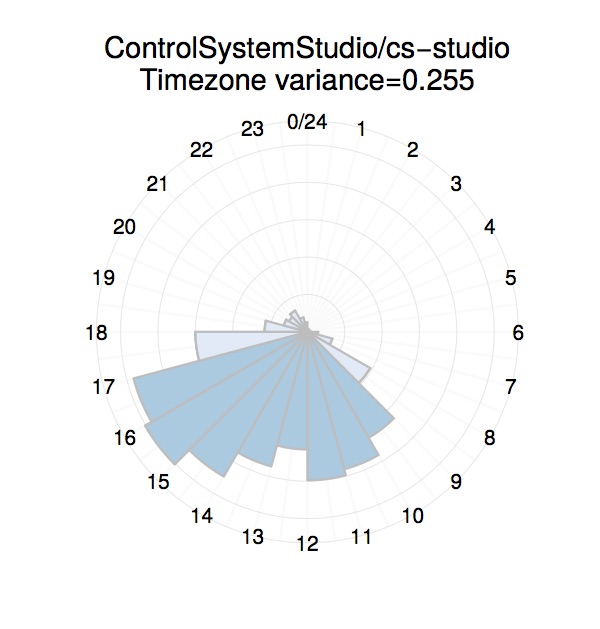 Paper accepted at ESEC/FSE 2017
Jun 2, 2017. | By: Bogdan
We just had a paper accepted at ESEC/FSE 2017!
Recovering Clear, Natural Identifiers from Obfuscated JavaScript Names, with Casey Casalnuovo and Prem Devanbu from UC Davis.
More details about the research here.
Try out our tool online.
STRUDEL is hosting 3 REU students
May 29, 2017. | By: Bogdan
We are thrilled to announce the arrival of 3 students participating in the Carnegie Mellon 2017 Research Experiences for Undergraduates in Software Engineering:
Anita Brown, from Bryn Mawr College
Asher Trockman, from University of Evansville
Jacob Hoffman, from Carnegie Mellon
Looking forward to a productive summer!

Our new logo is here
May 19, 2017. | By: Bogdan
Thanks to Josh Quicksall's amazing talents, the STRUDEL lab has a new logo! Can you spot where Josh got his inspiration from?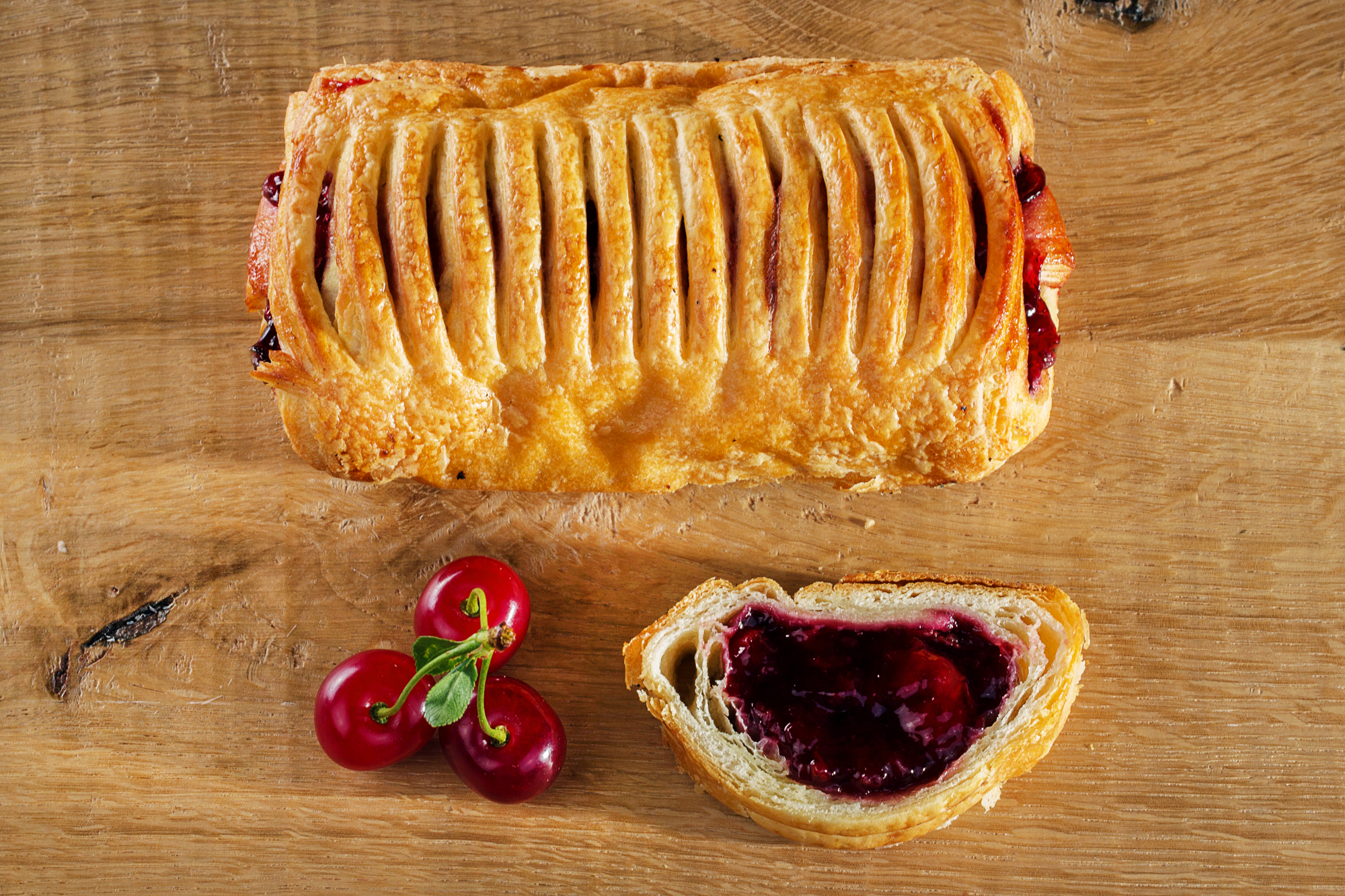 (Image from: http://lacasapane.ro/en/shop/sour-cherry-strudel/)